Connecting the dots: Illustrator Ellen Heydenrych talks social media
Since Instagram was launched in 2010, it has been shaking up the world of art. Paving the path for a more image-centric social media experience, Instagram gives countless artists, illustrators and designers the opportunity to make their mark with limitless creative freedom. Gone are the days of relying on a costly studio space and occasional exhibitions to get your work into the public domain. On social media, the only limit is your imagination.
Beyond acting as a carefully curated online gallery, Instagram offers a borderless networking opportunity for artists and a seamless way to keep up to date with movements in the industry. Among iconic artists such as the elusive Banksy (whose career is probably doing just fine without his artwork brightening up our news feeds), hundreds of thousands of artists are using the platform to showcase their work and establish their brand. 
Ellen Heydenrych is an illustrator who has recently been making waves in South Africa with her impactful - and frankly enchanting - artwork. We wanted to know how social media has shaped her art and how her work is now shaping conversations on social media.

How would you describe your illustration style in three words?
Three words? That's tough! How about: clean, bright and thought-provoking?
Did you always know you wanted to be an illustrator? If not, how did you discover you were interested in pursuing an artistic career? 
I only realised I wanted to be an illustrator about a year and a half ago. I think it's important to explore lots of possibilities and paths and figure out who you are and what you stand for before deciding what exactly it is you want to do with your life.
I've always been very creative, and I was encouraged to be an architect as a child, but sometime during high school, I realised that wasn't for me. It was too restrictive for my creative style.
I decided to study Journalism at university, and was surprised when I found out that through my degree I could specialise in Communication Design, which revolved more around layout design, but gave me access to the Adobe Creative Cloud. Adobe programs changed the way I create completely. My illustrative style wouldn't exist without them.
I really only realised that I wanted to pursue an artistic career when I learned to use Adobe Illustrator, and I haven't looked back since!

How has your art style changed since you started regularly publishing your artwork on social media channels?
I would say that since I started posting my illustrations on social media, they've become more socially-conscious. I also consider what my followers like the most, but I try not to let that define how I create and what I create. It's quite a tricky line to straddle – obviously I want likes and exposure, but I also need to stay true to myself and create art that I feel is genuine and reflects who I am and what I stand for. It's quite scary to put yourself out there, but it seems to be paying off at the moment, so I'm going to keep doing it.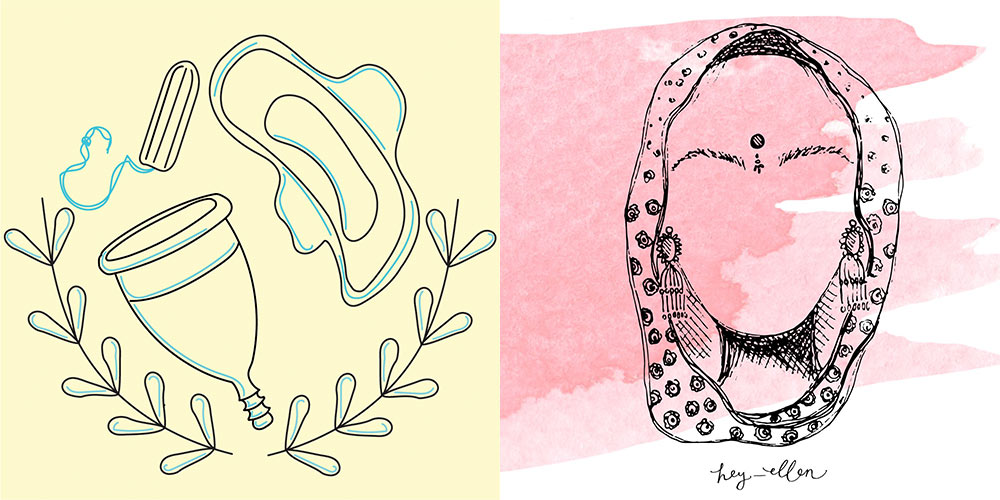 How has social media helped you make contacts in the design community?
Social media has been the key to connecting with illustrators and designers around the world. Through hashtags and common interests, I follow and am followed by so many wonderful, influential creatives. I have also been really lucky to have been featured on a South African arts publication called Between 10 and 5 twice. In both of theses articles, I was featured along with many other talented South African artists, which has led me to form connections with so many influential people who are changing and bettering our country through the art they produce.
Social media has played such a big role in getting me to where I am today. The more I share, the more I connect with people, and the more I connect with people, the more of a platform I have to use my voice and share what I think is important.

What is your proudest achievement in illustration to date? 
My proudest achievement so far was the first time I was featured in one of South Africa's major news publications – the Mail & Guardian. At university, I formed a bond with one of my colleagues with whom I worked at the student paper – Nkosazana Hlalethwa. She now works for the Mail & Guardian as a writer (and she is phenomenal at what she does, I might add). Towards the end of 2017, she contacted me and asked if I would be able to do an illustration to accompany an article she was writing. I of course said yes. The article revolved around an incredible friendship and bond she and her friend Bobo had formed. It was so special to bring their story to life with my illustration, an it was also exciting to be published in a national newspaper.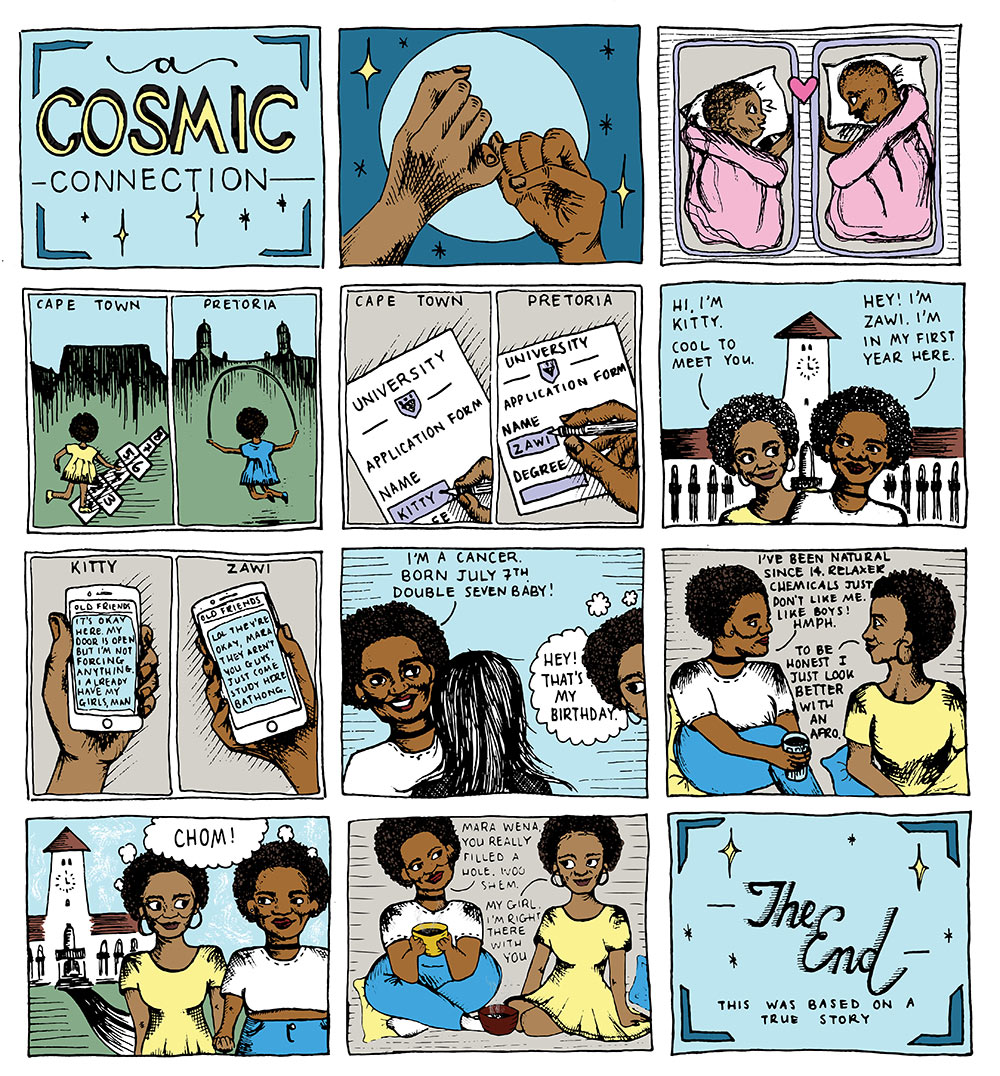 What are the top three tips you have for any young, aspiring illustrator?
1) Never stop drawing or creating. The only way to get out of a creative slump is to
create!
2) Share your work with people. Start small – share it with the people you love first.
Gain some confidence, build an audience of people who love you and then grow from there.
3) Believe in yourself, practice self-love, and remember that you are worth more
than your likes on social media.
Any illustrator accounts for us to swoon over?
My favourite illustrator is Julie Houts. She is so clever and quirky and brilliant and I would happily trade my spleen for a copy of the book she released last year.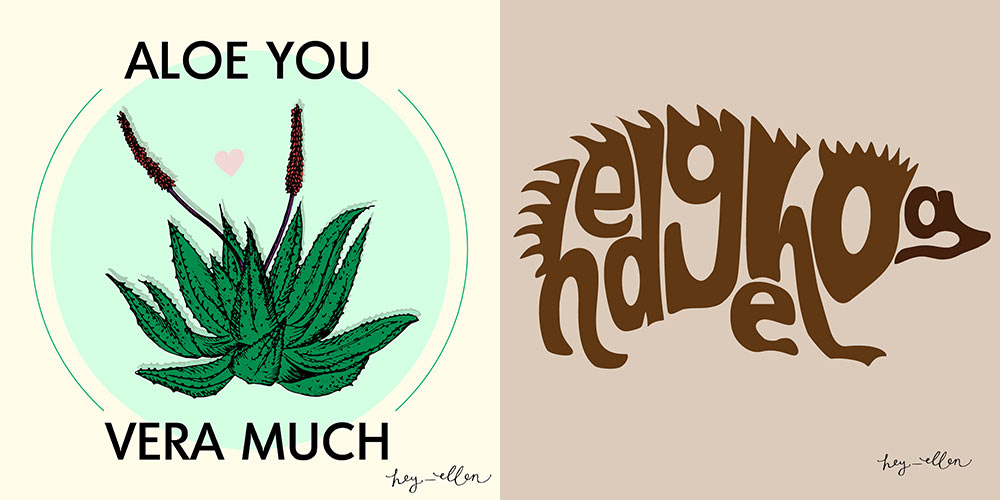 David Tshabalala is one to watch! He has such a defined style and his work is so eye-catching and brilliant.
I also love Minerva Illustrator. Her work is so feminine and colourful and fun.
Follow Ellen Heydenrych on Instagram, Twitter and Facebook and check out her website.
comments powered by Disqus