Creative Director Stuart Tolley Talks Design
Stuart Tolley is the creative director and founder of Transmission, a graphic design studio and editorial consultancy based in Brighton. Quite the prolific designer, his client list spans from arts organisations to lifestyle brands. In between other jobs, Tolley has also authored two books: both MIN: The New Simplicity in Graphic Design and Collector's Edition: Innovative Packaging and Graphics are published by Thames & Hudson. It just so happens that none other than Nick Cave and Sir Paul McCartney collaborated with Tolley on the latter.
We sat down with him to find out what makes good design great, who else he'd like to work with, and how to remain focused in a constant state of flux.
What made you pursue design as a career?
I've always been interested in photography, art and especially graphic design. As a child, long before I knew what graphic design was, I would pour over my dad's vinyl records and admire the artwork. It was typical Dad rock stuff, but I loved the psychedelic artwork for 'Disraeli Gears' by Cream and the die-cut cover for 'Jailbreak' by Thin Lizzy. At school I would shoehorn graphic design (badly) into all my projects, often creating small publications and skateboard inspired graphics.
How do you continue to challenge the way you think of graphic design and your approach to it?
My approach to graphic design has changed a lot over the years. I used to enjoy creating rough and expressive work, but I'm now more interested in a timeless and considered approach to graphic design. It's probably come with age, but I enjoy a decluttered lifestyle and I think this is reflected in my work. I'm also far less interested in trends, as I realise the problem with reflecting trends is they have the tendency to date quickly.
I still like to be playful, but I love adding small, well-considered details that might not be noticeable at first glance. I'm really happy with my art direction for my latest book, MIN: The New Simplicity in Graphic Design, which is published by Thames & Hudson. The book documents the rebirth of Minimalism and I was conscious of making the design looks contemporary and not a pastiche. I like the subtle details, such as the consistency of the still life photography and the navigation system, which utilises the gutter of the book, an area normally considered dead space.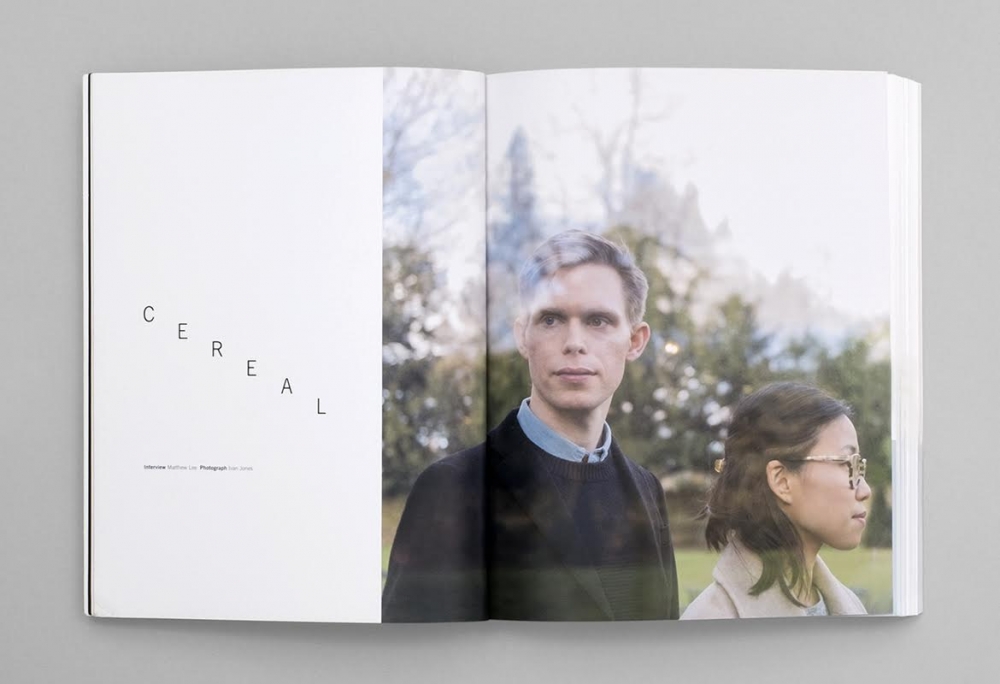 Magazine design by Stuart Tolley.
You have mentioned in the past that you've felt conscious of being typecast as a magazine designer. Where do you see the perfect balance between specialisation and generalisation?
For the first few years of my design career, I worked exclusively within the magazine industry. I was worried about being typecast and decided to explore other disciplines, which led me to design campaign graphics for a film festival, curate art exhibitions, design book jackets and bespoke typography.
I love variety, but I also realised that I'm happiest when working on projects with a factual narrative. So, for me, the perfect balance is creating specialist content about the arts, music and culture, but working with brands, publishers, arts organisations and charities. This could be anything from art directing a visual culture book for a lifestyle brand to creating campaign graphics for an arts organisation.
The Internet has given everyone access to learning materials and computer programmes. How is this changing design?
The internet is a fantastic source of inspiration and access, but I still think it's very important to gain a formal graphic design education and experience at a studio. Anyone can learn a computer programme, but an education gives you access to expertise and traditional methods of design. But, I think the biggest change is that graphic designers are now expected to be multi-disciplined. Being a good designer isn't enough. We're now expected to be adept in pre-press, post production, retouching and coding.
Your work hints music is quite important to you. How do your interests outside of design affect your work?
I think it's important to work on projects that reflect your interests, as the process is more rewarding. The perfect example is my first book, Collector's Edition: Innovative Packaging and Graphics, which documents the new wave of limited edition graphic design created for the music, book and magazine industries. When the book was published my girlfriend commented that it's the printed version of my personality. I hadn't thought of it that way, but it's true, as I still buy vinyl records, independent publications and watch documentaries about music subcultures.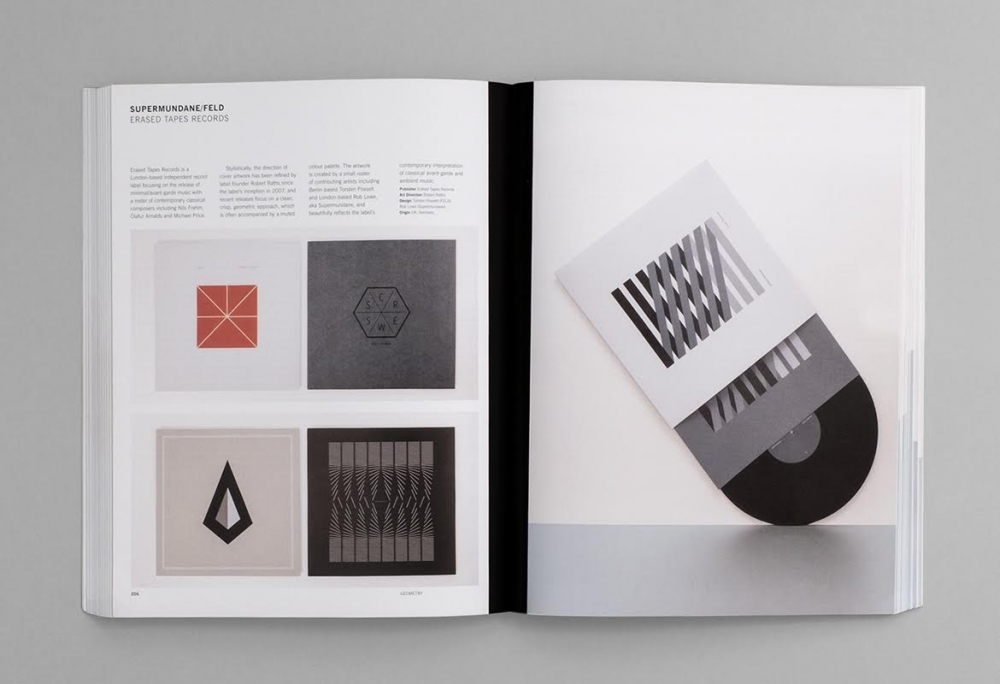 An outtake from MIN: The New Simplicity in Graphic Design.

Working with books and magazines, how does the context of your subject inform your work?
Editorial design is primarily about storytelling, creating a journey and reflecting the editorial direction of the publication. All publications have a different personality and the art direction and design is an integral part of this. I've worked on titles about music, film, lifestyle, travel and visual culture, which have all had their own distinct narrative and style. The visual direction of my books, MIN and Collector's Edition, are much more subtle and minimal, because the featured examples are the central focus, whereas my art direction for youth culture and style magazines has been a lot more playful.
What's your ideal brief?
I don't think it gets much better than authoring and art directing my own book. Both were dream projects because Thames & Hudson gave me creative freedom and trusted me to deliver on deadline. I might sound like a control freak, but I loved having the freedom to dictate the editorial structure and also the design direction.
I also couldn't believe it when I commissioned Sir Paul McCartney, Nick Cave, Stanley Donwood, and others, to draw directly onto a standard edition cover. These one-of-a-kind artworks became the Collector's Edition artist 'cover bomb' series which were sold at auction to raise money for charity. I still think it's crazy that Nick Cave, whose music I love, and Paul McCartney, one of the most famous people on the planet, drew on my book.
Second to that, I would love to design a full album campaign, including cover artwork, music video and limited edition vinyl artwork, for a label or artist that I admire. Someone like Warp, Erased Tapes, Ninja Tune or Raster-Noton.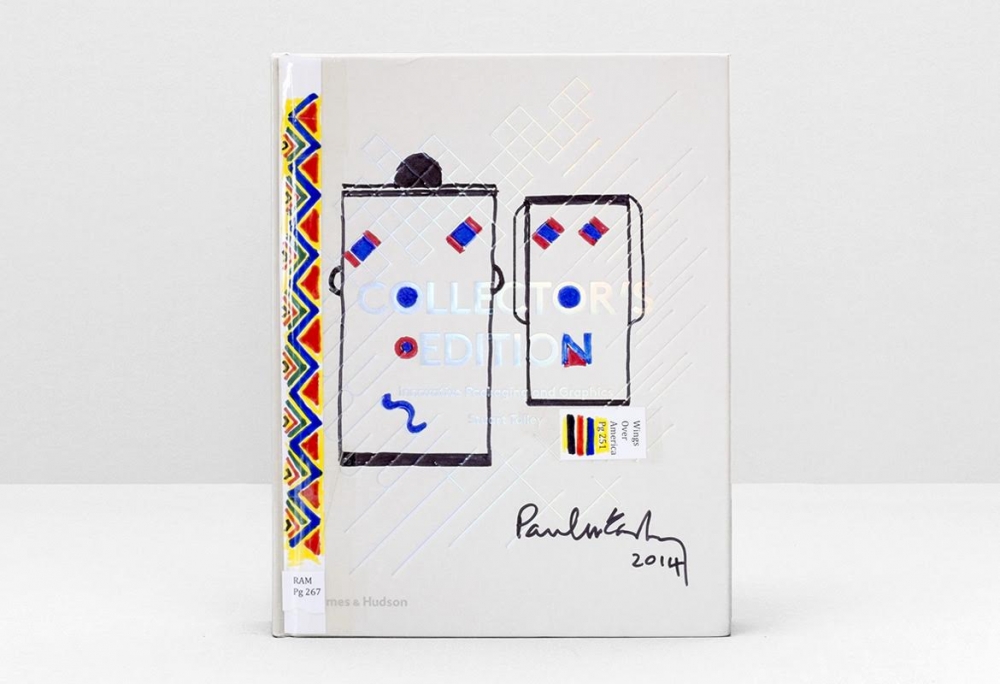 Sir Paul McCartney's cover of Collector's Edition.

Sometimes it's easy to get distracted or lose inspiration. How do you keep yourself on track and constantly evolving?
The internet is great a distraction, and also inspiration, but I prefer getting away from the screen to see exhibitions, watch films and listen to music. I'm also lucky because the Transmission studio is a few streets away from the sea in Brighton. A quick screen break can feel like a short holiday and I find the continuous motion of the sea very inspiring.
I also participate in group art exhibitions, which I use to explore a new visual direction or experiment with production methods. For the past two years my work has been selected and exhibited at Secret 7", a yearly event that takes 7 tracks from 7 of the best-known musicians and presses each one 100 times to 7" vinyl. Submitted designs are selected from thousands of entries and this year I created a minimal cover using layers of transparent perspex circles for the song 'Clearest Blue' by Chvrches.
Of all the things you know now, what do you wish you had known when you first started out?
I wish I had a better business brain when I first started Transmission. It sounds obvious, but creating interesting work isn't enough, especially if nobody gets to see it, and the ability to market yourself is paramount too.
What's the best piece of advice you've ever been given?
Aside from design advice on various jobs, I still stand by the quote that 'it's better to regret something that you've done, instead of something you haven't'. It might be a bit cheesy, but I like the sentiment.
comments powered by Disqus