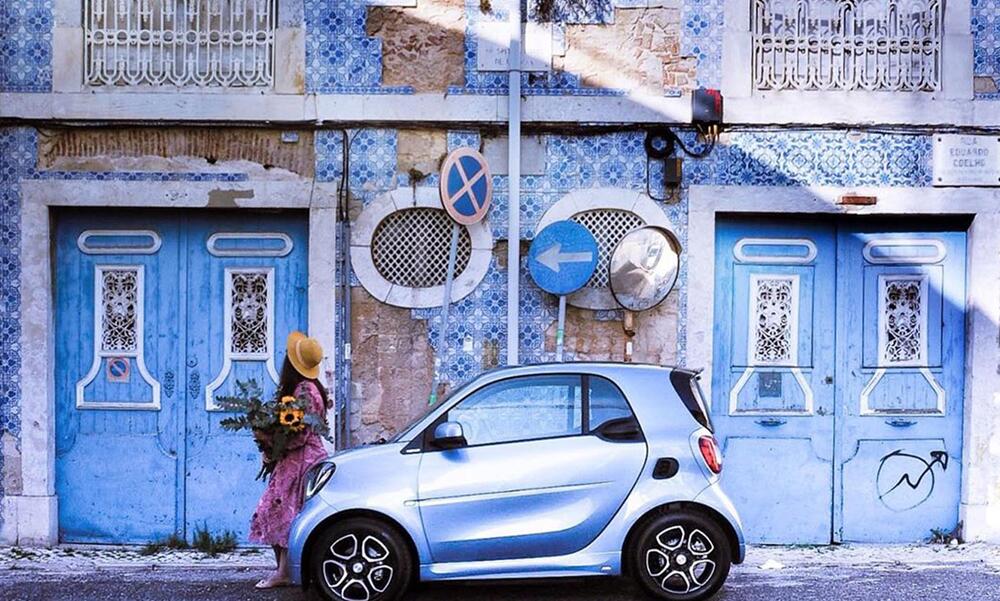 'I'm Moving to London' Tells Us What Moves Her
While she was born in Bulgaria, Deyana Petrova has called many places home, including the Middle East and Malta. Until finally, she answered the London calling in the best way possible – by documenting her adventures around it as a blogger and visual content creator.

And all her hard work capturing the city hasn't gone unnoticed. Deyana's account, I'm Moving to London, has been named top London Instagram account to follow for the past two years in a row by the Evening Standard.

Naturally, as lovers of London and Instagram alike, we had to find out what her relationship with this iconic city was really like. And what it means for the future of this one-billion-strong platform.
Say you're new to London. How should you decide where to settle?
London offers so many choices – which is both a blessing and a curse at the same time, as there is something for everyone and you need to take your time to choose. I think you need to decide what you like to be surrounded by and what is important to you on a personal level. I love West London and throughout my time in London, I have always lived there and never felt the need to change. It has everything I need - centrality, great transport links, it's safe, calm and has absolutely beautiful Victorian houses. There is obviously the question of budget, which isn't a small consideration in London as prices vary so much. So, if I were you, I would start by setting up my budget and then see what neighbourhoods are affordable within that, then choose from the ones you vibe with.
What area of London do you think is the most overrated?
Shoreditch, so overrated in my opinion, (sorry).
We're not offended. 😉 What's the most underrated?
I am not sure if underrated, but I feel like Chiswick is a stunning place and beautiful neighbourhood that I just do not see enough of.
What Instagram trend dominated your feed in 2019? What do you think will be popular in 2020?
I think I was becoming a bit more personal on Instagram, giving more glimpses into my life. And also, I did take a bit of a creative break, as unfortunately, I needed it to deal with a few life changes. I think I would like to focus on positivity in 2020 and showcase more of my travels around the world. I'm even considering a handle change. 🤔
Let's talk hotel stays. What do you expect when you're doing a hotel collaboration as a minimum?
I expect that when I arrive, people are briefed on why I am there and will support me in capturing the desired content. It is always great when the hotel puts together an itinerary or organises activities for me to do, as that helps me create great photo and video content – which, at the end of the day, would be for the hotel to use. So the more options of things to do, views, or room set-ups – the better.
And how can hotels really WOW you with their service?
I always love it when people know I am there to capture content and help me to do so. Like for example, if the room has a view or a unique feature. Another is when the restaurant gives me a table in the corner, so I can capture content in peace without everyone looking or thinking I am taking pictures of them (especially in luxury hotels, given their types of guests; it can be very awkward if I need to capture content in the middle of the space). Just overall being supportive of me accessing spaces and having the space and time to create content.
What criteria do you think makes a London restaurant really stand out?
The service and good quality food. I am simple when it comes to [restaurants], but I love a place with a good vibe and yummy food – nothing crazy for me. 😊
We saw that you were quite skeptical of Instagram hiding likes to protect mental health. If not this, how do you think the platform can do that?
I think it can do it by supporting the creators that contributed to its success and letting people engage with content they actually like, instead of what an algorithm thinks they like. This will lead to natural engagement and appreciation of the content created, leading to less speculation about it. Speculation of how the algorithm works is a huge contributing factor towards people's insecurities about the platform and their own content. This then leads to people stressing about what to post so that the algorithm likes it, instead of being truly creative and believing that their content is amazing (as it is).
A few years back, there were no debates about engagement – everyone was doing their own thing and engaging with their following naturally because their content used to get served to their own followers. Nowadays, I don't even know what is happening on my feed or explore pages. I see five-day old content all the time, while the updated daily content from people I follow just doesn't come through. At the end of the day, Instagram is a money-making machine, not a creative platform anymore.
How long do you normally spend crafting the copy on your Instagram posts?
Not long to be honest. I usually write about what I feel and try to use imagery that I am feeling vibes with the content, or the other way around, so it is more instant for me. I do not use any planning tools – I just feel it on the day and do it. 😄
What do you think is a must-have to hook your audience on Instagram? (And you can't just say great content. 😉)
I would say being yourself, whatever that is. People will follow you because of you and there is no precise content formula for continuous success. But being yourself, for me, is the most important ingredient. The second part is engaging with the community. At the end of the day, Instagram is meant to be a community on top of everything else and if people have chosen to follow you, the least you can do is engage with them.
Finally, say you were about to move AWAY from London – how would you spend your final day in this iconic city?
I would order my usual avo on toast with poached eggs and a flat white for breakfast from Upside Down in Earl's Court, then go for a walk around South Kensington or Chiswick to say goodbye to my favourite places. I would go to Lina Stores to have my favourite pasta for dinner with my friends, then watch the sunset over Kensington from my terrace with my cats.

Gotta love an avo on toast! And a "magic hour" moment spent reflecting on all the good conversations you've had (like this one with Imperial Leisure 😉).
comments powered by Disqus