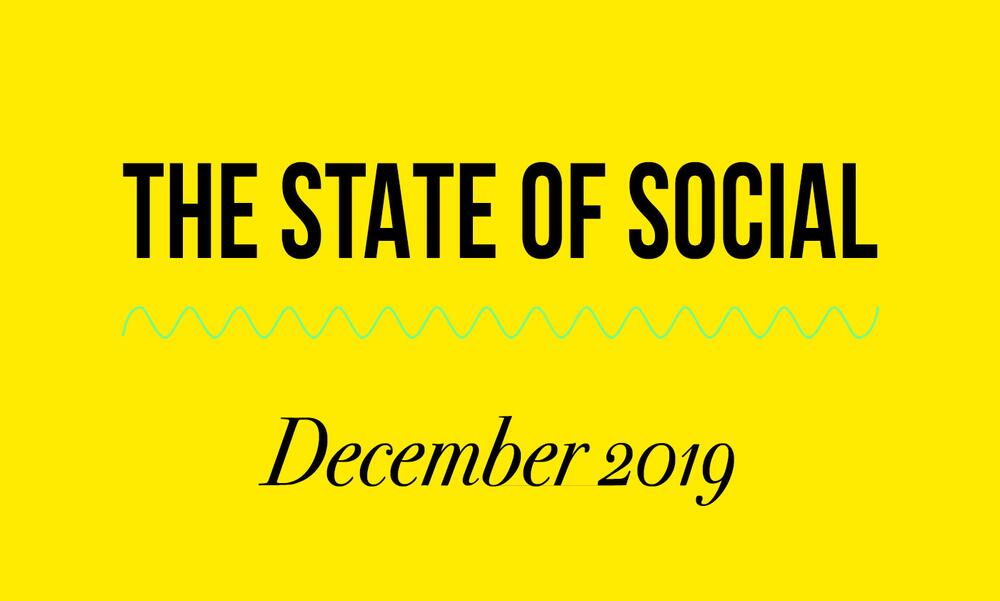 The State of Social: December Edition
In a bid to see off 2019 the right way, social media platforms really upped the ante in December. Take a look at some of the recent updates in this month's state of social. The popular music streaming platform, Spotify, has officially hit pause on its political ads. Snapchat offered up a huge prize for those of us interested in augmented reality, and the competition between Instagram and TikTok continued to evolve.
Instagram Sparks Competition With TikTok By Launching New 'Reels' Feature
Instagram will soon be launching a video-music remix feature to compete with social media rival, TikTok. The new feature will be dubbed 'Reels' and will allow users to make 15-second video clips set to music and share them to their Stories. Similar to TikTok, soundtracks can be added to the 15-second videos from a large catalogue of music, or even audio from other users' videos to create a remix or meme. Reels shared to Stories will have the potential to go viral on a new 'Top Reels' section that will soon be added to the Explore page.
For now, Reels is being trialled in Brazil where it's called 'Cents.' As Instagram has a rich presence in Brazil, the trial period will offer an opportunity to test and learn before cross-promoting to its 1.5 billion user base.
Twitter's Media Studio Now Features New Conversation Insights
Twitter has seen some changes to its platform lately – including the option to hide tweet replies and trialling internal tweet scheduling. Most recently, Twitter's media studio has introduced 'Conversation Insights', a tool that enables publishers to see tweets that they may have missed via the network's content listening tool.
This new feature goes beyond hashtags and mentions, as tweets are mined and displayed on a customisable dashboard that shows new data minute-by-minute. Other features on the dashboard will include an interactive graph that displays how many tweets mention the publisher, top accounts talking about the publisher, and a subsequent timeline of tweets about the publisher that can be filtered by follower and/or engagement thresholds.
Snapchat is Offering $750,000 USD for Lens Creators
Although Snapchat's growth has slowed due to Instagram's foray into speciality filters, one area where Snapchat continues to excel is in its AR tools and visual features.
Trending lenses such as 'gender-swap' have spiked huge interest and downloads of the app, and the platform knows that in order to stay on top of the AR game, it must innovate.
In order to do this, Snapchat has announced that it will pay out more than $750,000 USD to its top augmented reality stars in 2020 – 3x what it paid out to creators in 2019. It's said that the end goal is to iterate its Spectacles video sunglasses into fully functional AR devices.
Spotify Hits Pause On Political Advertising
Following Twitter's lead in eliminating political advertising, Spotify has now announced it will stop selling U.S political advertising early this year. The platform says it does not have the capability to 'responsibly validate' ad content, stating that "At this point in time, we do not yet have the necessary level of robustness in our processes, systems and tools to responsibly validate and review this content. We will reassess this decision as we continue to evolve our capabilities."
In doing so, Spotify has joined other large tech companies in the struggle to handle political campaign advertising in the run-up to the 2020 election. This new move will apply to Spotify's ad-supported service, as well as its original and exclusive podcasts. Since the service only previously sold political ads in the U.S., no other countries will be affected.
Facebook's Brand Collabs Manager Opens Up To Some Instagram Creators
Instagram has recently updated its branded content policies, following an announcement that Facebook's Brand Collabs Manager is now open to a "select group of Instagram creators." This means that creators will now be able to share insights and engagements with brands and find partners that will resonate with their audience.
In the Brand Collabs Manager, creators will also be able to search for like-minded brands looking to partner on content creation. This will allow them the opportunity to "source new deals, manage partnerships and automatically share insights." There will also be a focus on restricting branded content that promotes alcoholic beverages, diet supplements, tobacco products and weapons, all of which Instagram will start enforcing in the coming weeks. Read more here.
Imperial Leisure is a creative communications agency specialising in viral marketing, digital and social media. We help our clients deliver the right message to the right audience. We'd love to hear from you so do drop us a line or follow us on Twitter.
comments powered by Disqus