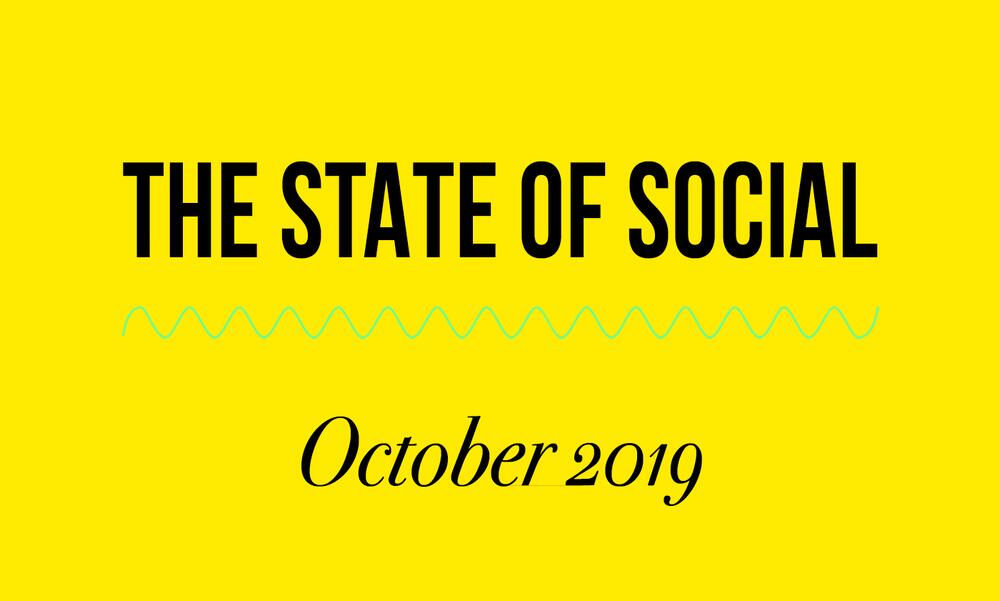 The State of Social: October Edition
As the role of social media continues to grow and evolve, platforms as we know it are beginning to change. Whether it's the introduction of new features to cater to existing user behaviours or the development of existing features to increase trust and transparency, one thing is certain… social media is continuously developing to keep up with the changing demands of users and brands.
We've rounded up some of our favourite social media stories this month including a step forward in accountability on social media, new platform functionalities and TikTok's eyes on European expansion.
Facebook Gets Ready to Launch News Tab
As far as journalism is concerned, Facebook doesn't have the best reputation. In an era of fake news and false information, Facebook has previously been criticised for its behaviour when it comes to news - relying solely on the algorithm, which caused a number of fake new stories to be circulated.
Now, this is set to change as Facebook prepares to launch its 'News' tab. The section will be featured alongside the traditional news feed, only it will be dedicated solely to journalism. Set to initially roll out in the US, headlines from publications such as the Wall Street Journal, the Washington Post and Business Insider will be featured on the mobile app. Learn more here.
Instagram Tests a New 'Invites' Sticker in Stories
Another day, another test of a brand new Instagram feature. The platform reportedly tested a new event 'Invites' sticker to help users invite people to their events through Stories. The unreleased stickers, reported last week by reverse engineering guru, Jane Manchun Wong, would allow users to input the details of their event – location, date, and event title – and then add it as a sticker to an Instagram Story. Other users would then be able to RSVP directly via the sticker.
It could be that this new feature is a direct response to users already using the platform to organise events. Instagram's Adam Mosseri explained in an interview that the platform knows that users are already using Instagram as an events tool, but in a 'hacky way' with private accounts. This insight hints that this feature could pose a benefit to both individual users and brands alike, who could use 'Invites' as a community building tool.
It's unclear when the feature will be rolled out – or even if it will be – but Wong recently tweeted that Instagram has stated that they are looking for ways to help people use Instagram for events.
LinkedIn Debuts Events Hub for In-Person Networking Events
LinkedIn has now officially launched LinkedIn Events, nearly a year after announcing that it was developing its own events tool.
Renowned for being an online platform for professional networking, this new feature will now allow users to facilitate in-person events to take this networking offline.
The functionality is similar to Facebook Events, and both organisers and attendees will be able to send event invitations to their connections – with the option of organizers to host 'private' events, where attendees will need to be given permission to invite their connections. According to LinkedIn, Events will be a great place for professionals to start interacting with other attendees before events, as they can invite them to connect before meeting in person.
These new event pages will live under LinkedIn's Community panel, which sits to the left side of the News Feed in the mobile app. The option serves a clear, functional purpose in LinkedIn's system and is already being touted as a clear success.
Social Media Drives Mobile-First Shopping Up by 24%
Consumers have been using social media to learn about new products and brands for nearly a decade, and a recent study shows that now more than half of consumers (58%) say that social media directly influences their purchasing decisions. As platforms continue to make it easier for users to shop directly via social media, mobile-first shopping has seen a 24% increase YoY.
With an audience that is more engaged than ever on social media, mobile-first shopping is only expected to grow. Global internet users spend an average of 142 minutes per day on social platforms, up from an average of 90 minutes from 2012. By 2024, mobile-first shopping is set to hold nearly 8% of the total e-commerce market, nearly double its hold in 2019. Read more here.
TikTok Eyes European Expansion
After arriving in the UK nearly 14 months ago, TikTok has its eyes on expansion in Europe. The brand's UK offices have now become their European headquarters, and they are working on ways to scale quickly across the region.
Currently, the majority of advertising revenue comes from the United Kingdom and the United States, where TikTok have tested and sold most of its ads to date. However, despite brands in these regions wading into TikTok's advertising waters, many are still debating whether being an early adopter or waiting until the platform matures will be most beneficial to them.
To combat this, clarifying what advertising on TikTok can do is a priority for the app. For now, the growing app remains a 'test and learn' platform for brands, similar to Snapchat's emergence into the advertising game. However, TikTok has said that they have learned from their predecessor's mistake of phasing in targeting and measurement, and aims to introduce these services over a much shorter period of time.
Imperial Leisure is a creative communications agency specialising in viral marketing, digital and social media. We help our clients deliver the right message to the right audience. We'd love to hear from you so do drop us a line or follow us on Twitter.
comments powered by Disqus